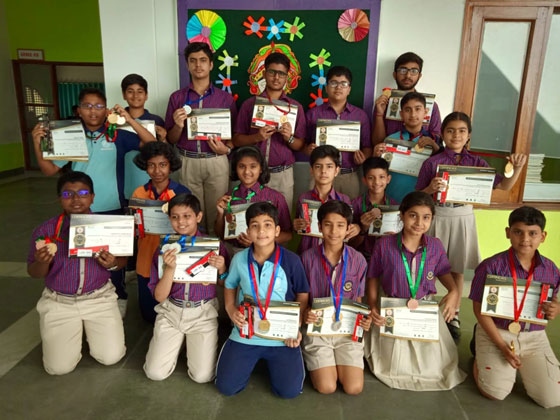 KCites have brought laurels to the school and have outshined in various Olympiads held lately.
*In SOF International Mathematics Olympiad (2018 – 19)
Many students bagged Zonal and School Toppers gold , silver and bronze medals and certificates.
Following are the names of students who bagged Zonal medal of distinction :
Class 2 - Panshul Bansal
Class 7 - Aditi Gupta and Isobel Tabitha
Class 8 - AtulChoudhary , Jaidev Singh , Aaranya Sharma , Ansh Mahajan , DevanshMagotra , Kalhan Bhat , RakshitMawa , Suvansh Sharma , Vihaan Bhat
Class 9 - AkhileshMagotra , SushrutBadyal , Aditya Sharma ManitGoswami , Soham Jain .
*In Silver Zone Olympiads (International Talent Hunt Olympiad) and International Reasoning and Aptitude Olympiad) many students of KCIS bagged Gold, Silver and Bronze medals, certificates and gifts.