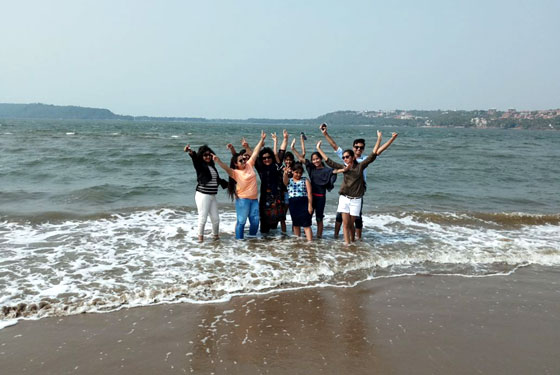 "A JOURNEY OF A THOUSAND MILES MUST BEGIN WITH A SINGLE STEP"
A Week long school trip was organised to Bombay& Goa via Delhi .It was a fun filled trip away from school and home where students had the opportunity to learn in a totally different environment. They learnt to take care of themselves and their belongings away from the supervision of their parents. They adjusted well in the company of their teachers and friends. The students left the school for Delhi at 4.30 am . Later they had a stoppage at Havelli wherein after freshening up they left for their destination. Lunch was taken at New World Restaurant, Karnal. Finally at 7 pm the group reached Delhi airport and excitedly boarded the flight to Goa. On reaching Goa the students were transferred to the hotel "The Royale Assago". Goa is known for its beaches and ancient Churches. After settling in Hotel the students were taken for site seeing. A boat trip was organized to see Dolphins in Arabean Sea, the oldest central jail of Goa and an underground bunglow of a famous Diamond Merchant. Then they left for Colangute beach and had loads of fun there. After having lunch students were taken to Anjuna beach, where they played beach volleyball. The next morning before the breakfast students enjoyed in the hotel swimming pool.
After breakfast the group left for Aguada Fort , the oldest Church of Goa, Bom Jesus Church and Miramar beach where they had a great time and later went for a Cruise Party. It was one hour sail on the sea of atmost delight. Next morning at 5 a.m they left for Mumbai, bidding Good bye to pleasing Palm trees and alluring beaches of Goa. At 7:30 pm on reaching Mumbai they were transfered to Hotel Atlantic, which was next to Kishore Kumar's Bunglow. Next day after having breakfast the group headed to Essel World and Water Kingdom. After enjoying the rides and rain dance there, they went to Juhu Chaupati and went back to hotel for relishing dinner. Next morning the most popular places of Mumbai like "The Siddhivinayak Temple", the Gateway of India, the Hajiali Dargah, Bandra Sea link and Marine Drive were visited . The Bunglows of Mukesh Ambani , Amitabh Bachan, Sharukh Khan, Sachin Tendulkar, Salman Khan and Rekha were also shown. After a tiring day kids returned to the hotel for lunch and left for Chattrapati Shivaji Airport to board the flight to Delhi. On arriving in Delhi at around 9 pm, they headed to Delhi railway station for the next destination Jammu. Overall it was an amazing trip. Everybody was soaked in the memories of the most beautiful trip ever.