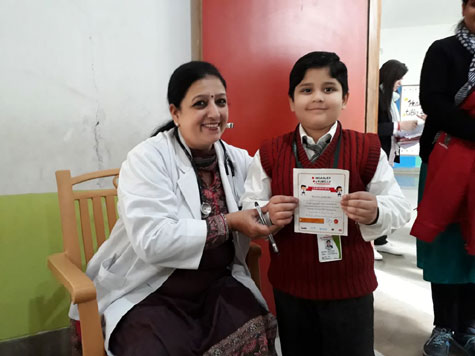 India, along with ten other WHO South East Asia Region member countries, gave resolved to eliminate measles and control rubella/congenital rubella syndrome (CRS) by 2020. In this direction, Ministry of Health & Family Welfare has initiated measles-rubella (MR) vaccination campaign in the age group of 9 months to less than 15 years in a phased manner across the nation. The campaign aims to cover approximately 41 crore children.
To support measles-rubella vaccination campaign, KC International School got its students immunised with MR vaccine and successfully completed the process on 13-11-2018, Tuesday.
The students from Pre-Primary to grade-X were given vaccine shot by well trained and experienced doctors; under the supervision of the school medical examiner, class teacher and co-ordinator in charge. The school management and Principal Mr. Subhendu Sarkar were highly vigilant during the entire campaign. Principal Mr. Subhendu Sarkar boosted the morale of the children before they headed towards the vaccination booth.
The highly motivated KCites, willingly participated in the campaign. The smiling faces of the students were showing that they were in good health while leaving for their homes.
Mr. Sarkar blessed the children and wished for their good health.