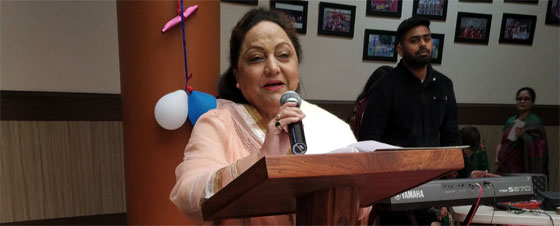 KC International School organized Graduation Ceremony & Grandparents' Day for the young and enthusiasticstudents of its Pre-Primary Wing, on 11th March, 2019.
The occasion was graced by Mrs. Saroj Mahajan,Senior Vice Chairperson of KC International School,as the Chief Guest of the event.
The celebration commenced with a cordial welcome of the Chief Guest by school Principal Mr. SubhenduSarkar;that was followed by lamp lighting and Saraswativandana to evoke the blessings of Goddess Saraswati.The Principal, in his welcome address, highlighted the vision of the school and the role of grandparents and teachers in the students learning process.After paying a heart touching tribute to our brave heartsoldiers, the little kids welcomed the guest with a welcome song. The energetic and graceful dancers left everyone spellbound with their mesmerizing dance performances. The tiny-tots also expressed their gratitude and thanked their grandparents for their unconditional love. Besides this,the students also shared a bit of their unforgettable learning experience at kindergarten and glorious achievements,being little KCites.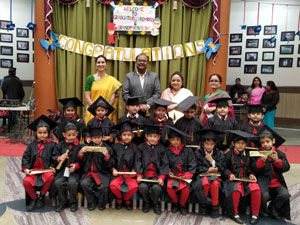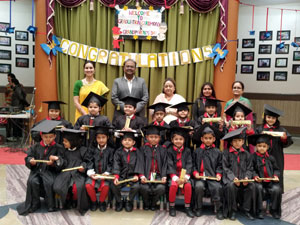 The main attraction was when grandparents expressed their gratitude towards the school and teachers for instilling values and self-esteem in their grandchildren through varied spectrum of activities. They also showcased their hidden talents like singing, dancing and acting.
The most important part of the day- the Graduation Ceremony began with the KCIS Superkids dressed in graduation robes and caps walking the red carpet.The Chief Guest and Principal felicitated the students with the scrolls of graduation.
The programme concluded with the vote of thanks by Mrs. Ameet K. Sharma, the Group Leader KCIS Superkids.