'Leadership is practiced not so much in words as in attitude and in actions'
This momentous day of 2/5/19 dawned to bestow responsibilities on the deserving young talents of the school to lead their school from the front with their commitment, confidence and competence.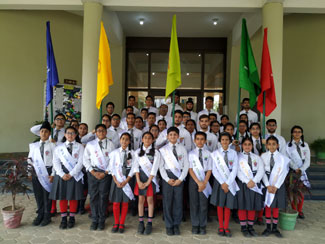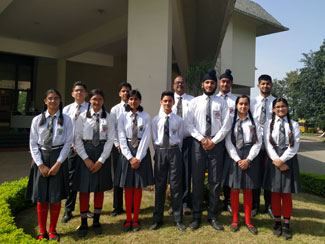 The school held the Investiture Ceremony with great enthusiasm. It was the occasion where the young students were all prepared to don the mantle of leadership and discharge the responsibilities entrusted to them by the school. To inculcate the leadership qualities in students and to give them a feel of being an important and integral part of the administrative body, 'Student Council' is formed every year.
The event began with the introduction by Ms Anuradha Jamwal. All the newly elected school officials seniors and juniors, School prefects, House Captains , House prefects and commandos were called one by one for pinning of the badges and sashes on the stage. Principal Mr Subendu Sarkar and Activity Coordinator Ms Rajni Malhotra did the honours.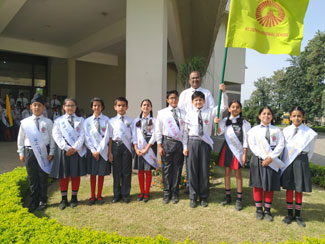 Then the Principal administered the oath to the newly elected 'Prefectorial Body 'and Ms Rajni Malhotra delivered a pertinent speech, acquainting the newly- appointed prefects their duties and responsibilities .The Headboy and the Headgirl gave a speech on the occasion. Principal Sir congratulated all the officials. The programme ended with the school song.
The school officials are as follows:
Head Boy seniors : Master Vasu Dev Singh Chib
Head Girl seniors : Miss Coral Sharma
Head Boy Juniors : Master Ridhiman Jasrotia
Head Girl Juniors : Miss Shereen Mahajan